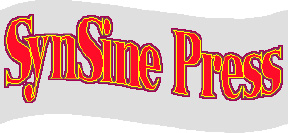 Current Publications
Synsine Press
Looking for original series book art? See our sale page
Here's some dust jackets for sale. They even include the books!
Sorry, we no longer have any copies of:
Series Books and the Media; or, This Isn't All
Frank and Joe Turn Blue
Clark's Guide to Margaret Sutton's Judy Bolton Mysteries
The Adventures of Susan Slut
The Girls' Series Companion
A Guide to Judy Bolton Country
Schoolgirl Shamuses, Inc.
The Vicki Barr Encyclopedia
Well, feel free to send an email. If I do have the rights to a title you desire, I'll discuss it with the author(s) if applicable, and get back to you.